Montana Document Shredding and Storage FAQs
TIDBIT: The ONLY secure technologies and methodologies that will render protected health information (PHI) secure are: (1) Encryption and (2) Destruction. Nothing else will render your data PHI secure.
General
Q. What is records management?
A. Records management is the systematic control of records—from creation, processing, distribution, storage, and retrieval, through eventual disposition.
Q. Where do I start complying with all the new privacy laws?
A. Contact us for our new customer compliance toolkit. We are happy to help you get started.
Q. Where are you located?
A. 1700 National Ave. Helena, MT 59601 (Map)
Q. What are your hours of operation?
A. 8:00-5:00 pm Monday-Friday. By appointment or in emergency we're available 24/7.
Warehouse Storage
Q. What is a record?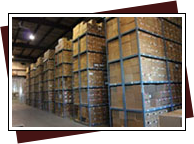 A. A record is any recorded information, regardless of media or characteristics, that supports the activity of a business or organization. It is considered an asset and can take the form of:
Paper Documents – Memos, Receipts, Invoices, Statements, Correspondence and books
Electronic Records – Databases, E-Mail, Backup Tapes, and CD Archives
Audio Records – Cassettes and other Magnetic Media
Film – Movies, Videotapes, Photographs, Microfilm
Graphic Images – Drawings and Maps in any format
Q. Why are records important?
A. Recorded information is the foundation and lifeblood of any business or organization. The ability of an organization to create, distribute, use, maintain, and dispose of a record parallels their ability to be successful in the business world. New laws that have been recently passed such as HIPAA and The Sarbane's Oxley Act and FACTA, require organizations to provide privacy, security and the ability to quickly recover information from their records and information management (RIM) system. If not managed effectively, lost or violated records can cost the organization time, money, reputation, and open the door to litigation.
Q. How do I manage my outdated records?
A. Old records should not necessarily be kept forever. When they overflow their storage area, they are either destroyed if their lifecycle is complete, or they are sent to offsite storage where they are maintained for a period of time and then properly destroyed. In either case, their retention and destruction are governed by a records retention schedule. An offsite storage facility such as Montana Records Management, LLP, will make the offsite storage process easy, convenient and affordable.
Q. How do I pack boxes for storage?
A. There are a few basic rules to keep in mind when packing and labeling boxes for storage. Following them will save time, money and a great deal of difficulty when the boxes need to be located or disposed of. We track the history of a box with our detailed software for years after it has been destroyed. This service has proven, time and time again, to be a benefit for our customers in the event of a staff turnover and the loss of institutional memory from that process.
Determine the appropriate content – Each box should have only one kind of record. The name of the record should be a standardized name that comes from your RIM program. Ex: -Employee Records 2004, Invoices Jan – March; Interoffice Memos July.
Include records with the same retention dates – Each box should contain only one type of record. Ex: – receipts, invoices, reports, etc. Make sure the records have defined starting and ending dates for ease of destruction when their useful and legal life expectancy is up.
Clearly label the box – This is for records that don't require high levels of security. The type of record and the starting and ending dates should be clearly listed on the outside of the box. For boxes that require higher levels of security, such as those at a records center, a bar-coded number, or written code, only, should be used on the outside of a box. A matching transmittal form that contains key information about what each box contains should be kept in a secure place with limited access.
Accurate content description – Fill out the transmittal form completely and concisely. It is your company's permanent record in the future of what exactly is in the box to help you quickly locate important and vital information. For Example:


Box/Barcode #: 063358
Document Type: Reports
Client Item/Identification: A-104
Document Description: Ashwood Nursing Home
Date – From: 1/03/2000
Date -To: 12/31/2000

Review Date: 1/1/2005

If your records management staff is adhering to these principals, it makes retrievability a cinch for new employees and existing employees who quickly need to locate a file within a box to conduct day-to-day operations of a business. The person searching for records may or may not be the same person – or even the same department – as those who packed the box. They may know nothing about departmental acronyms, personnel names, and jargon specific to your area. They may also recall records many years after the boxes have been stored.
Q. What are the phases of the records life cycle?
A. The phases of the records life cycle are:
Creation – A record is stored information regardless of media or characteristics, made or received by an organization that is evidence of its operations and has an intrinsic value requiring retention for a specific period of time. Montana Records Management can store active or inactive records as well as magnetic media in our vault.
Distribution – Distribution governs who gets the record and is responsible for its use.
Use – Records are generally used in making decisions, for documentation or reference, answering inquiries, or in satisfying legal requirements.
Maintenance – There are three key steps in the maintenance of a record.
Storage or filing – When a decision is made to keep a record for use at a later date, the record must be prepared for filing and placement. This involves indexing, coding, and cross-referencing. Montana Records Management can assist organizations in preparing a complete records management program with our professional consultants.
Retrieval – After a record is stored, a request could be made to find and retrieve it from storage for use. Montana Records Management uses bar-coding and unique software to track our client's records for retrieval. Our ASI software is available to keep track of records at the document, folder, or box level. Same day deliveries are made right to your place of business.
Maintenance – When the record is no longer needed for active use, it may be restored and protected, using appropriate measures. Montana Record's Management provides high-level security, heat, fire and flood protection, temperature controls, bonded and insured employees and 24-hour access to client's records. Updating and purging outdated information are two more ways to keep records in useful condition.
Disposition – The last phase in the record life cycle is determined by a company's records management program. Records that are to be kept are transferred to less expensive storage sites within a firm or to an external records storage facility like Montana Records Management. After a predetermined period of time has elapsed, records that have outlived their usefulness according to the law and to the nature of the organization, are destroyed. This can be done by Montana Records Management's team of certified experts who can visit your organization's place of business and shred documents there or at our facility. Confidential records destruction is vital to your organization's records management program and it is the law.
Q. What is a records retention schedule?
A. A records retention schedule is a comprehensive list of records indicating the length of time records are to be maintained. Montana Records Management has teamed up with professional consultants that specialize in helping organizations develop a safe and accurate retention schedule policy unique to the nature of the business. Our team of consultants has more than 50 years of combined experience in the records and information management (RIM) field.
Q. Why should I store my important records with MRM? Wouldn't it be less expensive to store them in my basement, garage, or a mini-storage unit?
A. Newspapers, trade magazines, and the web are full of reports and stories of businesses that have improperly stored their records only to have partial or total losses of their vital records due to flood, fire or theft. Data breaches can occur easily in improperly stored records, leaving your business or organization vulnerable to legal fines, penalties, or worse – the liability of dealing with identity theft. The Fair and Accurate Credit Transaction Act is a fairly new federal law designed to reduce the risk of consumer fraud and identity theft created by improper disposal and storage of consumer information. IT APPLIES TO VIRTUALLY EVERY PERSON AND BUSINESS IN THE U.S. IT REQUIRES THE DESTRUCTION OF ALL CONSUMER INFORMATION BEFORE IT IS DISCARDED. POTENTIALLY SEVERE PENALTIES AWAIT VIOLATORS.
Q. Who is allowed access to my boxes in the record center?
A. Only our ACCESS EMPLOYEES are allowed to handle your boxes in the scope of their duties. Because we are a secure records center, our employees have pre-employment checks, background checks quarterly, random drug and alcohol testing, and social security header checks and extensive training on security protocol and NAID certified policies and procedures.
Vault
Q. Do you provide secure storage for tape, CD's and other magnetic media?
A. Yes. Our secure vault is a climate controlled facility for storage and daily backup tape rotation services. Your company can rest assured your vital and important information will be available in the event of a disaster.
Shredding
Q. What does MRM do with the paper after being shredded?
A. Because we are N.A.I.D. certified, we are required to use certified disposal agents for recycling only.
Q. Record Center – Where is your record center located?
A. 1700 National Ave. Helena, MT 59601 (Map)
Q. What are your hours of operation?
A. 8:00-5:00 pm Monday-Friday. By appointment 24/7.
Q. Can I bring shredding (personal or business) to your facility?
A. Yes. You can bring any quantity during regular business hours. We have special discounted pricing for walk-in customers. Certification does not apply to material not shredded on customer's site.
Q. What are your rates for shredding?
A. Contact us for the best pricing options. It varies based upon volume.
Q. Is there a fuel stop charge fee?
A. Depending upon your location, it is possible. Contact us. Since we cover the entire state of Montana, some locations may have a stop charge fee.
Q. Do you charge by the weight or the bin for paper shredding services?
A. We charge by the bin. Bins come in several different sizes.
Q. What is allowed to be put in the bins to be shredded?
A. Paper of all types including stables and paper clips. No phone books, brightly colored paper, or heavy 3-ring binders.
Q. Can you watch your paper being shredded?
A. Yes. Our trucks include a window for customers peace of mind.
Q. Do you automatically shred boxes that have met their retention schedule?
A. MRM never shreds any boxes until the client has given us a signed permission to do so. Many of our customers prefer to review their boxes to assure the retention schedule has truly been met. We provide our customers a warm and private customer courtesy room for reviewing their records.
Q. Do you shred hard drives?
A. Yes! We are now certified to destroy hard drives and can destroy them using a our shredders in our trucks. Call us today to schedule a time to destroy your old hard drives.
Q. What does MRM do with the shredded paper?
A. Since we are a certified shredding operation, we are required to use only an approved disposal agent. Our disposal agents are companies that collect shredded paper for pulping and recycling.
Q. If we bring our shred to you, how do we know someone won't go through it?
A. We have a secure facility. When you drop off shred, it is stored in a secure monitored location with limited access until it is shredded. When moved to the shredding truck, the material is never touched by staff. If you desire, you may drop off your material to be shredded while the shredding truck is here and watch the entire process. MRM is a bonded organization. All staff goes through rigorous background checks, regular drug and alcohol testing, and social security header checks. Certification does not apply to material not shredded on customer's site.